Description:
Electric Hair Trimmer 
WHY DO I NEED HAIR TRIMMER
Looking for a stylish lining, designing, and dry trimmer? This Trimmer has an exclusive design and very easy to use. The close-cutting, high-strength titanium alloy cutter head T-blade is perfect for lining, designing, and dry trimming. This Baldheaded electric hair trimmer has a 2000Mah Lithium Battery Capacity, 10W Power, Representing the Highest Manufacturing Level of Hair Clippers.

BENEFITS OF HAIR TRIMMER
✅ High-Strength Titanium Alloy Cutter Head

✅ Three-Speed Regulation

✅ 2000 mAh Lithium Battery

✅ Lightweight & Ergonomic

✅ Zinc Alloy Body With Upgraded Texture

✅ 3 Hours Of Battery Life

✅ Large-Screen LCD Power Display

✅ 30 Day Guarantee
POWERFUL ROTARY MOTOR
The Hair Trimmer has a powerful high-speed childlike rotary motor for increased speed, power and life Features constant speed technology. The running speed can be adjusted freely, and it can be individually adapted to different hair qualities. It won't drag or stall through heavy and thick hair types. 
ACCURACY & EFFECTIVENESS
The rechargeable integrated battery in the trimmer lasts for about 3 hours and is equipped with the best technology that can be found on the market. Small and portable, cordless convenience, easy to hold in hand, boasts an ergonomic design for easy maneuvering and optimal control. This will be your ideal choice in hair clippers. It is also designed so that the blades can trim very short hairs without ever touching the skin, thus ensuring no pain, cuts, or irritation, unlike "conventional" clippers or razors.
A must for detail work on hair, beard, and mustache. Cut your beard and hair quickly and cleanly. You can use it to create any style.
SPECIFICATIONS OF OUR HAIR TRIMMER
Power supply: USB rechargeable
Three gear speed adjustment: 6000/6500/7000rpm
Large-screen LCD power display
Product size: 16*4cm
Blade Material: Stainless Steel

Power: 10W

Voltage: DC 5V

Frequency: 50/60Hz

Battery capacity: 2000mah

Charging time: 2 hour

Using time: Approx: 240 - 300 minutes

✓ Professional quality equipment: a design worthy of the most expensive lawnmowers, for a perfect cut and millimeter accuracy.

✓ Suitable for all hair types: whether you have short or long, thick or fine hair, this clipper is made for you.

✓ Unsurpassed precision: Never miss a cut again with its unique design and ceramic steel blades.

✓ Easily transportable: take it with you wherever you go thanks to its compact design and built-in battery.

✓ Economical: say goodbye to hairdressing sessions for simple touch-ups, now you can do it yourself with ease.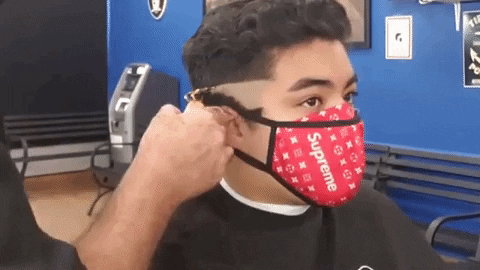 WHAT DO I GET?
Our  Hair Trimmer set includes one hair trimmer, USB cable, English manual, cleaning brush, premium packaging, and 5 limit comb (1/2/3/4/5mm). It's a great gift for men, who want good-looking, styled hair and a well-groomed beard. Get yours now and benefit from our free shipping and 30 days money-back guarantee.
Payment & Security
Your payment information is processed securely. We do not store credit card details nor have access to your credit card information.