Description:
HIGH ACCURACY DISC Can detect all kinds of metal 

objects. Also, you can set it not to respond to some objects. 

Waterproof search can be used in shallow water. Features high 

accuracy and adjusting angle for uneven ground. Different tone 

you may hear as you detect different metal objects. No need to 

stare at the screen all the time.

POWERFUL LCD DISPLAY You can decide which objects you want to detect or not, and the detected length is 16 cm / 6.3 in, the detected object is shown on the LCD display. LCD with light, easily identity the metal at night or caliginous places. Also has battery condition indicator.
HUMANITY DESIGN Easy to use. Arm rest and 

comfortable grip allows you to use it with little strength. 

Adjustable stem ranging from 102cm/3.3ft to 130cm/4.2ft, 

suitable for users of different height.

WITH SHOVEL AND HEADPHONE Also comes with one 

headphone and shovels. Headphone jack is near LCD. 

Provided for headphone connection, Both stereo and mono 

headphone can be used. The shovel has two different heads for 

different use.

WIDE APPLICATION For adults and children. Children will 

be thrilled to playing gold hunting with you. Can be used on any 

ground, such as grass, soil, beach, yard. Suitable for shallow 

water.
Key Features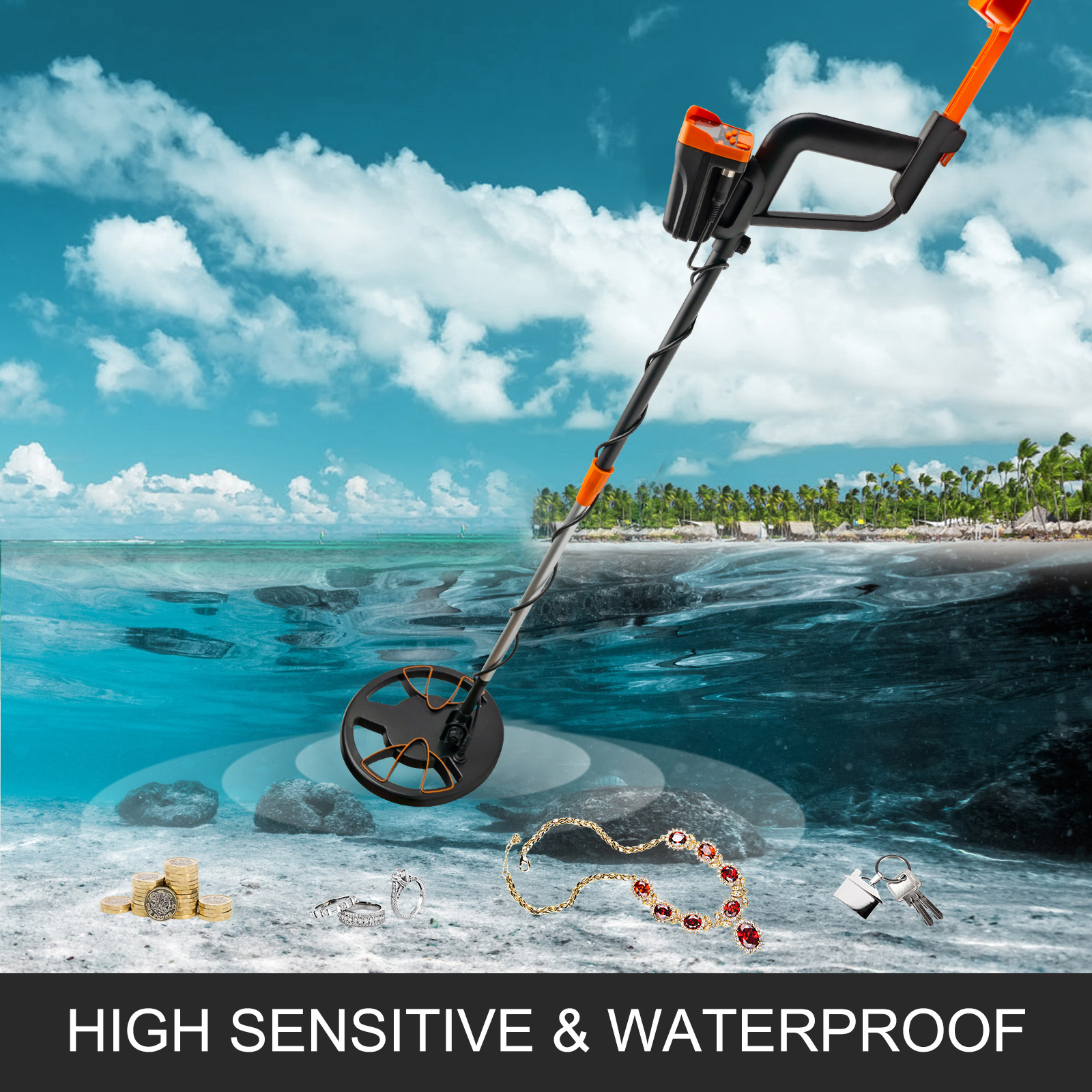 High Sensitive & Waterproof
Large disc with high accuracy and high sensitive can detect any metal objects. Waterproof design can be used on any shallow water.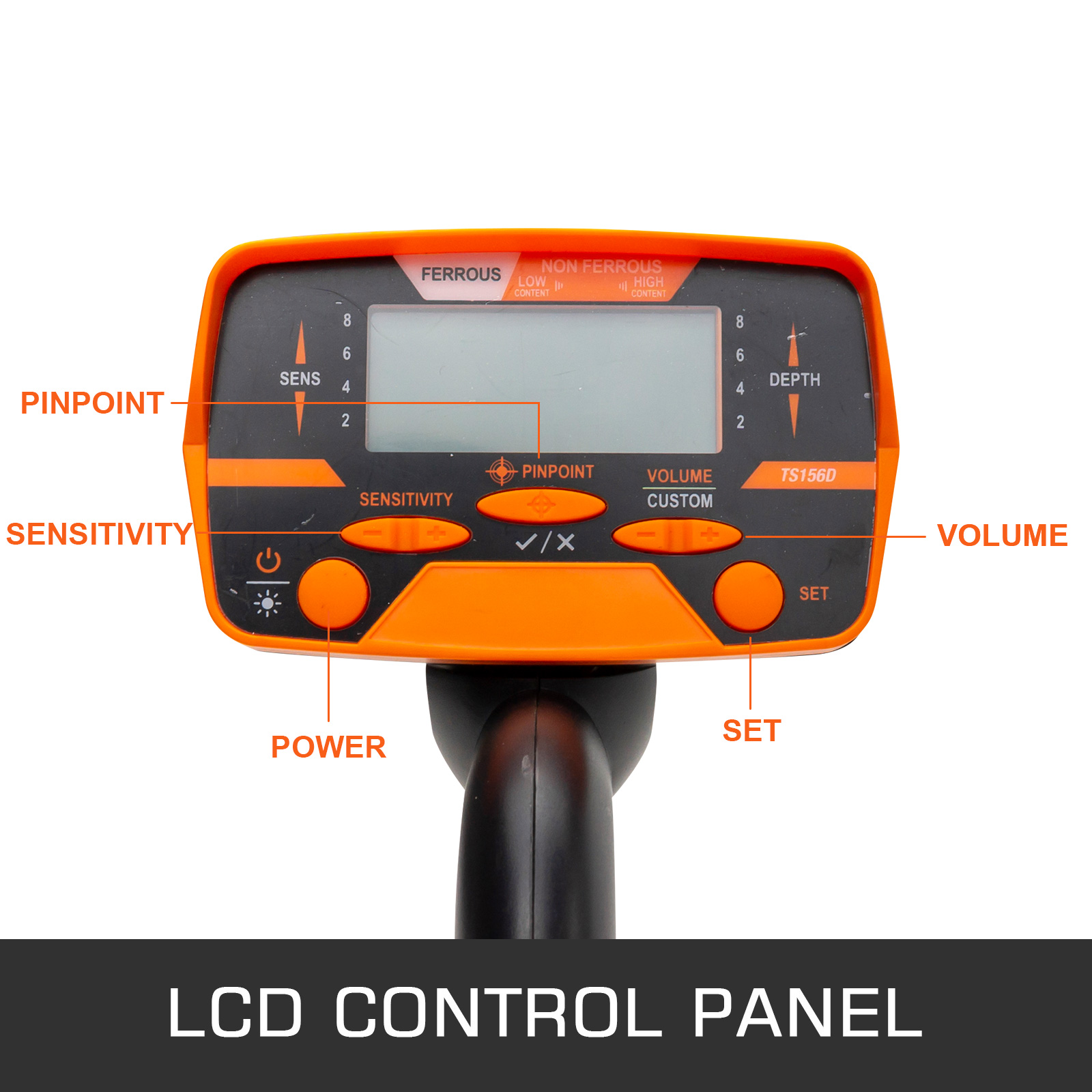 LCD Control Panel
LCD digital control panel features 8 levels of sensitivity and depth adjustable. It shows the detected objects on the screen. Easy to identity at dark.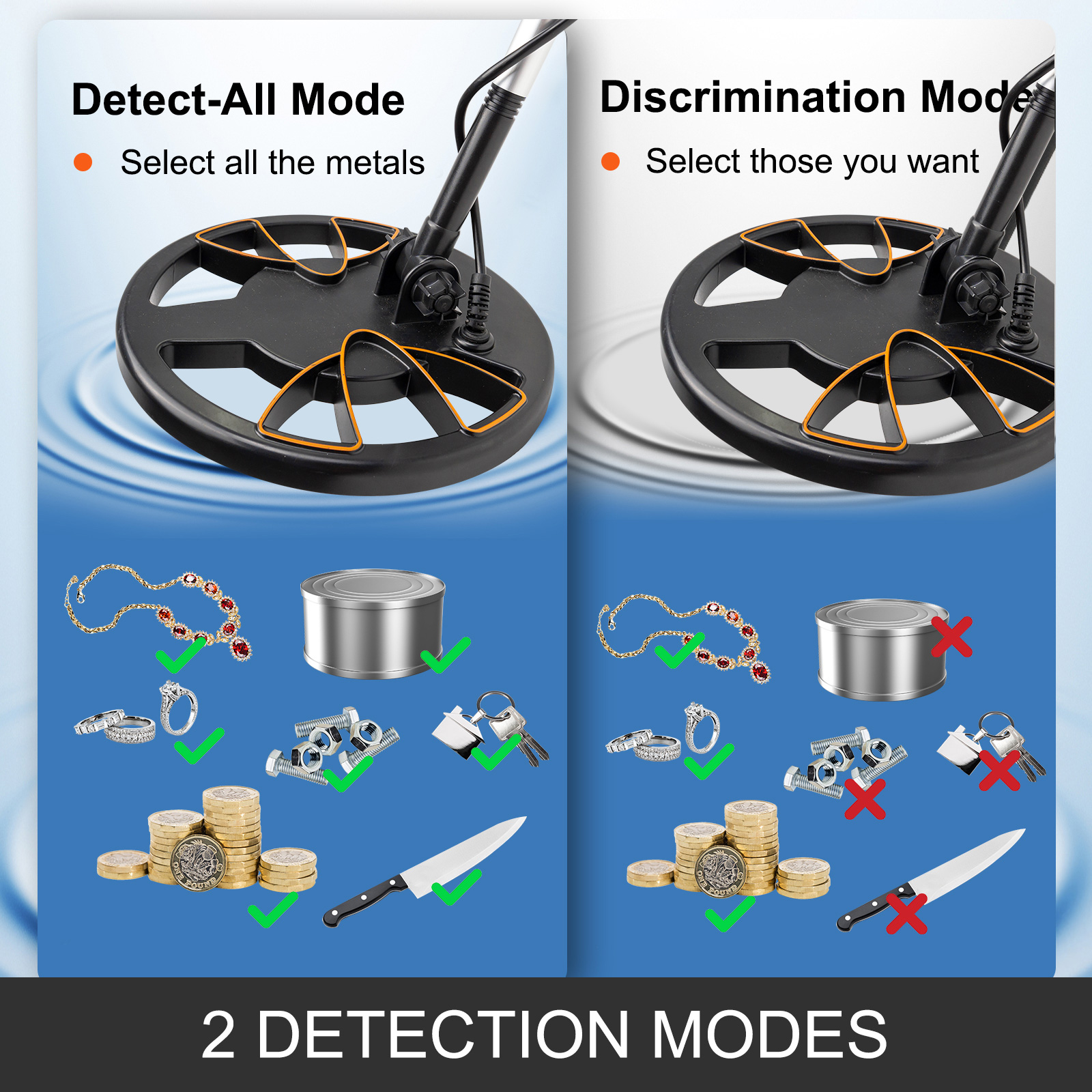 Ergonomic Design
This metal detector has arm rest design, comfortable grip. Adjustable stem: 102-130cm/3.3-4.2ft. For people of different height.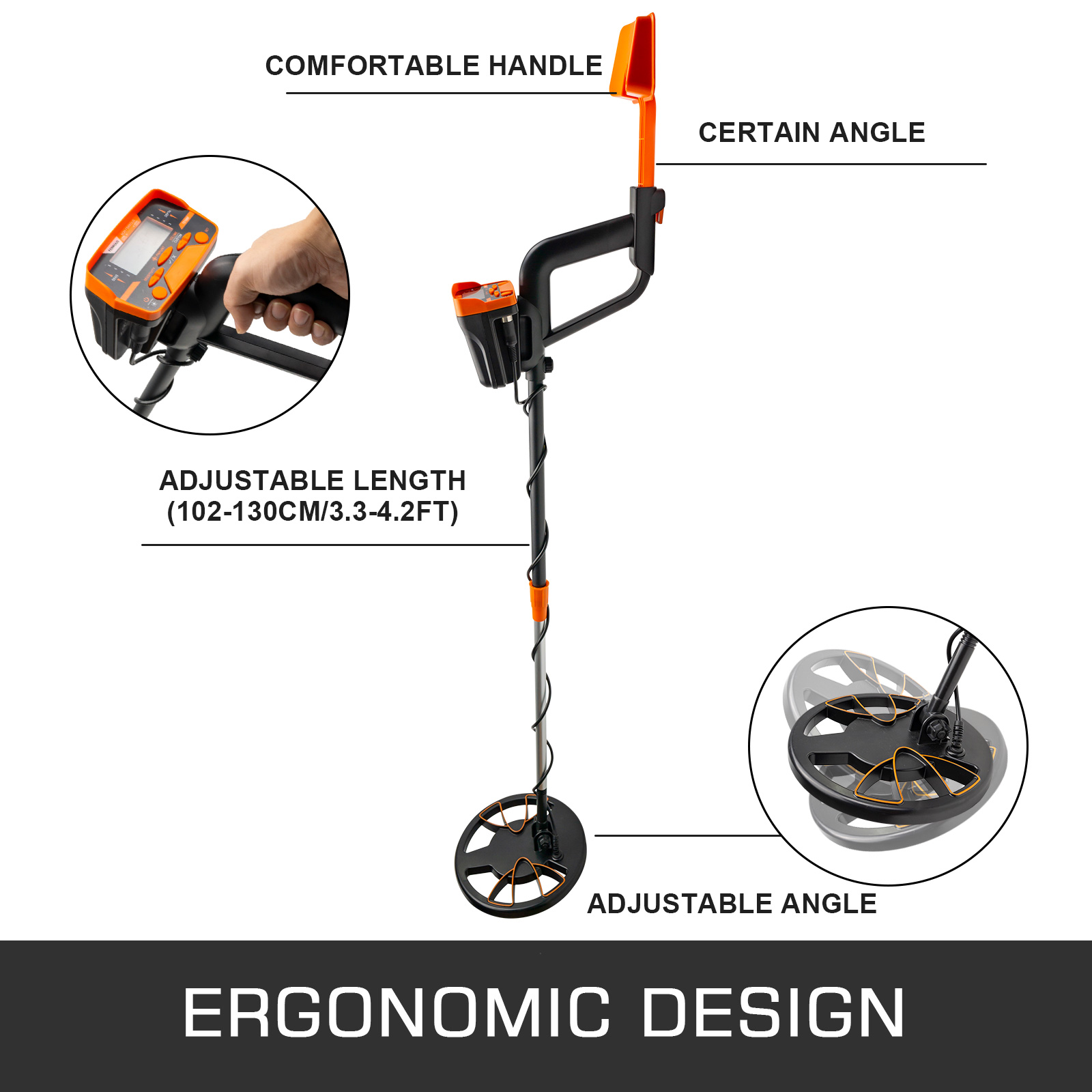 Useful Shovel and Headphone
One shovel with two heads, use it according to your need. The headphone is especially useful in noisy area. Using headphone also saves battery power.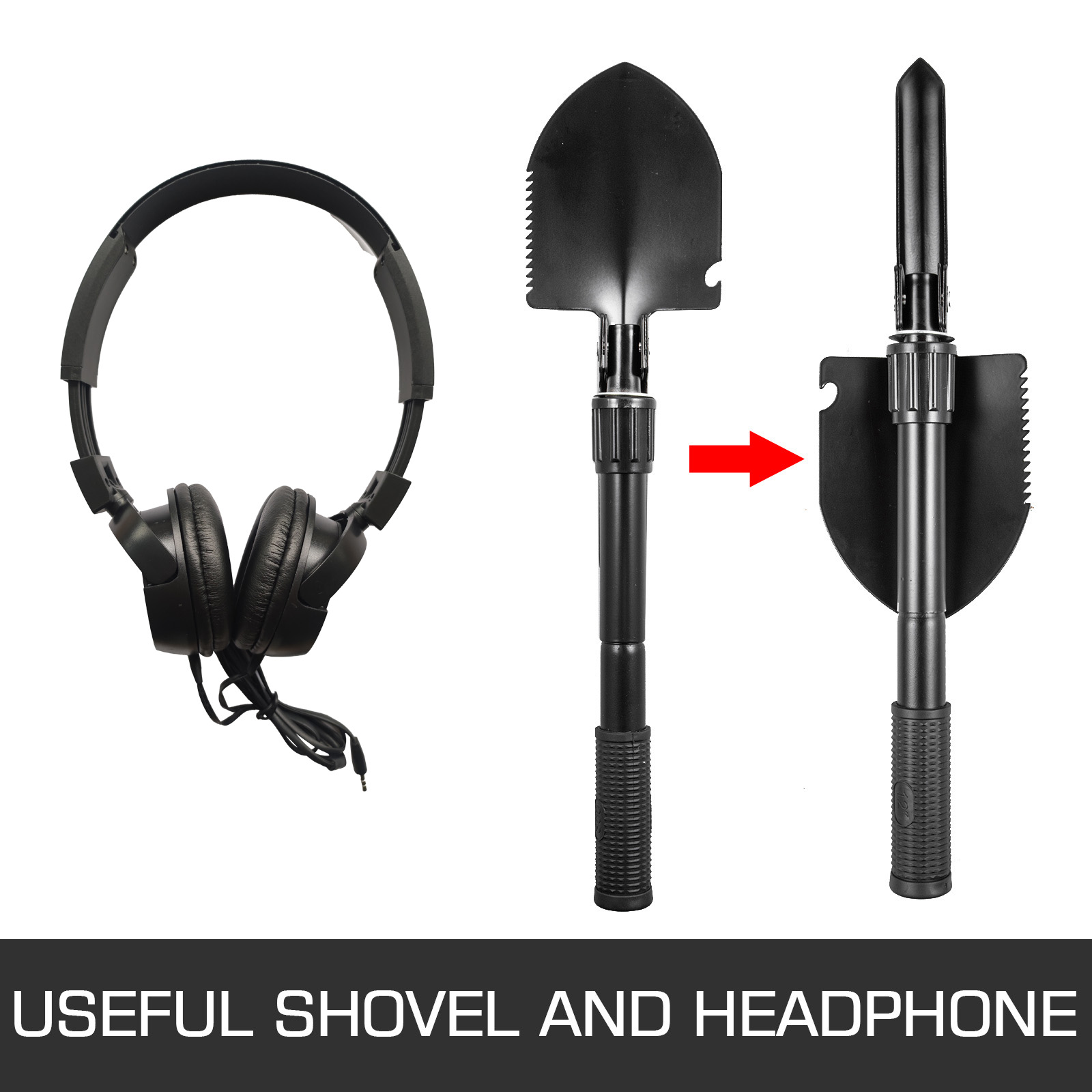 Complete Set
Comes with a complete set, including one metal detector, one headphone, one shovel, one shovel bag and the user manual. You can rest assured use.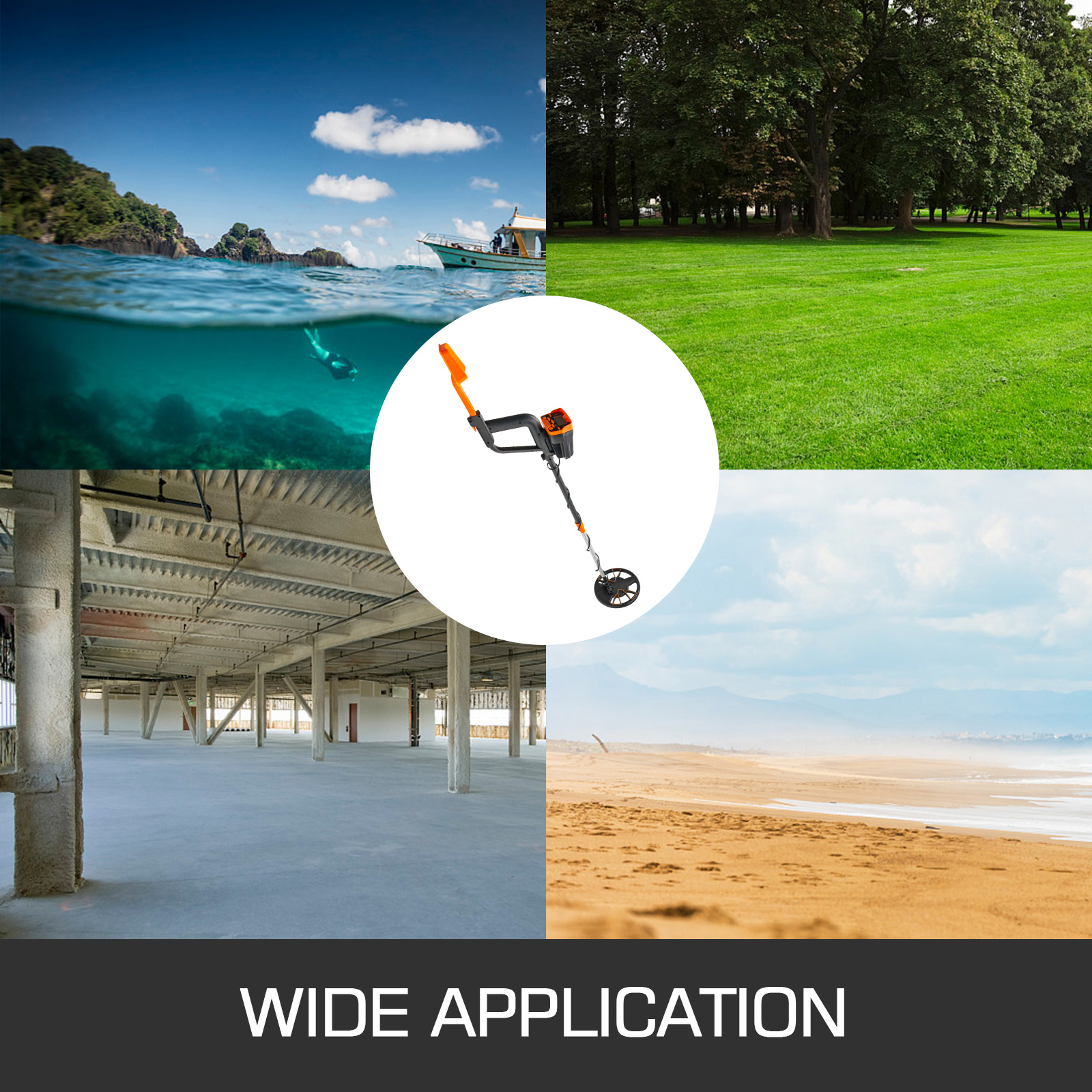 Wide Application
Widely used in daily life, gold hunting, archaeology, and so on. Can be used on any soil and shallow water.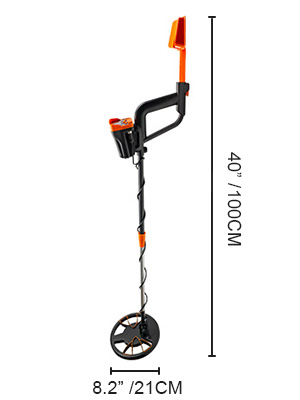 Metal Detector
Here we offer you this hand metal detector, it is designed to 
detect the exact location of metal objects. Battery-powered 
design is super convenient. Waterproof head can be used in any 
water, lake, river or sea. An ideal tool for treasure hunting, 
polices and archaeologists.
High Accuracy Disc

Powerful LCD

Humanity Design

With Shovel And Headphone

Wide Application
Specification
Material: ABS, Copper, Aluminum Tube

Adjustable Length: 102-130cm/3.3''-4.2''

Detection Depth: 16 cm / 6.3 in


Support Battery: 2×9v(6F22, S006P,)

Signal Frequency: 7.5KHz+/-1KHz

Sensitivity: At Least 13cm/5.1in

Search Coil Dia.: 8''/203mm

Net Weight: 3kg/6.6lbs
Package Content
1 x Metal Detector (No Battery Included.).

1 x Headphone

1 x Shovel

1 x User Manual
Payment & Security
Your payment information is processed securely. We do not store credit card details nor have access to your credit card information.