Description:
10″ 1/2-28, 5/8-24 Fuel Filter, Solvent Trap Kit For NAPA 4003, WIX 24003
Extend the life of your car by preventing contaminants from damaging it. Use the vaccap fuel filter to keep your car in pristine condition.

Made With High Technology Nano Filter
Filter off solvents, dust, moisture, and other fuel impurities that could harm your car with the Rev Filter. With high quality nano filter technology, Rev Filter can separate even the finest contaminants.


Filters Particles
The filter is designed to trap solvents and oils while cleaning.
It helps filter out particles and moisture that could otherwise damage the engine and the fuel gas system.

Eliminates impurities like dust and iron oxide off fuel. Prevents clogging in the fuel system.

Created With Durable Materials
This 100 micron fuel filter is designed to filter fuel efficiently in high volumes. Made with 7075 aluminum alloy, Rev Filter sturdy, durable, and includes anti-corrosion features. It can last for your car for years!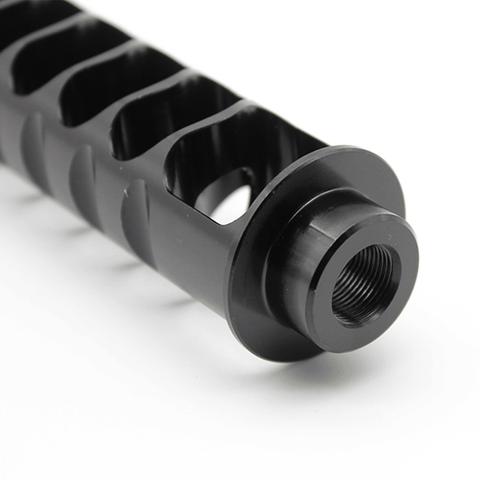 Where is the Fuel Filter located?

Easy To Disassemble And Install
This filter change is super easy to install, and easy to disassemble. Includes a push-lock hose and a rubber close at the end of the cap to allow easier inspection and disassembly.

High Efficiency
Uses nanofiber filtration technology. All throughout the filter, you can expect maximum filter performance.


Improves Car Performance
It does not just filter particles and impurities out the fuel. It also helps improve car performance by delivering high horsepower, acceleration, and torque.

For a better driving experience and longer car life
Great for a fuel filter, a dryer, a cleaner.


Features :
Great for a fuel filter.
New tube made from 7075 Aluminum.
End Cap made from 7075 Aircraft Grade Aluminum with 1/2-28 or 5/8-24
New unique designed by our team with Spiral Pattern filter element made from 7075 Aluminum Center Marked.
Heavy Duty: since it's a solid piece.
Reliability: fewer moving/shifting parts.
Maintenance: it's easier to take apart/clean.
Accountability: no small parts to get lost。

Specifications:
Fuel Type: fuel filter
Surface Finish: Titanium
Material: 7075 Aluminum
Thread: 1/2-28 fuel filter 1 2 28 or 5/8-24 fuel filter 5 8 24
Color: black or Titanium
Overall Length of 10 inch

Package Includes:
1 * 1/2″-28 or 5/8″-24 Thread On One End
1 * Smooth 1/2″ Bore On Opposite End
1 * Billet Aluminum Housing
1 * Stainless Steel Spring
Spiral 1/2-28 Single Core Car Fuel Filter for NAPA 4003 WIX 24003 Solvent 5/8-24 Replacement for bad fuel filter 
Payment & Security
Your payment information is processed securely. We do not store credit card details nor have access to your credit card information.