Description:
No more triple-digit monthly bills

!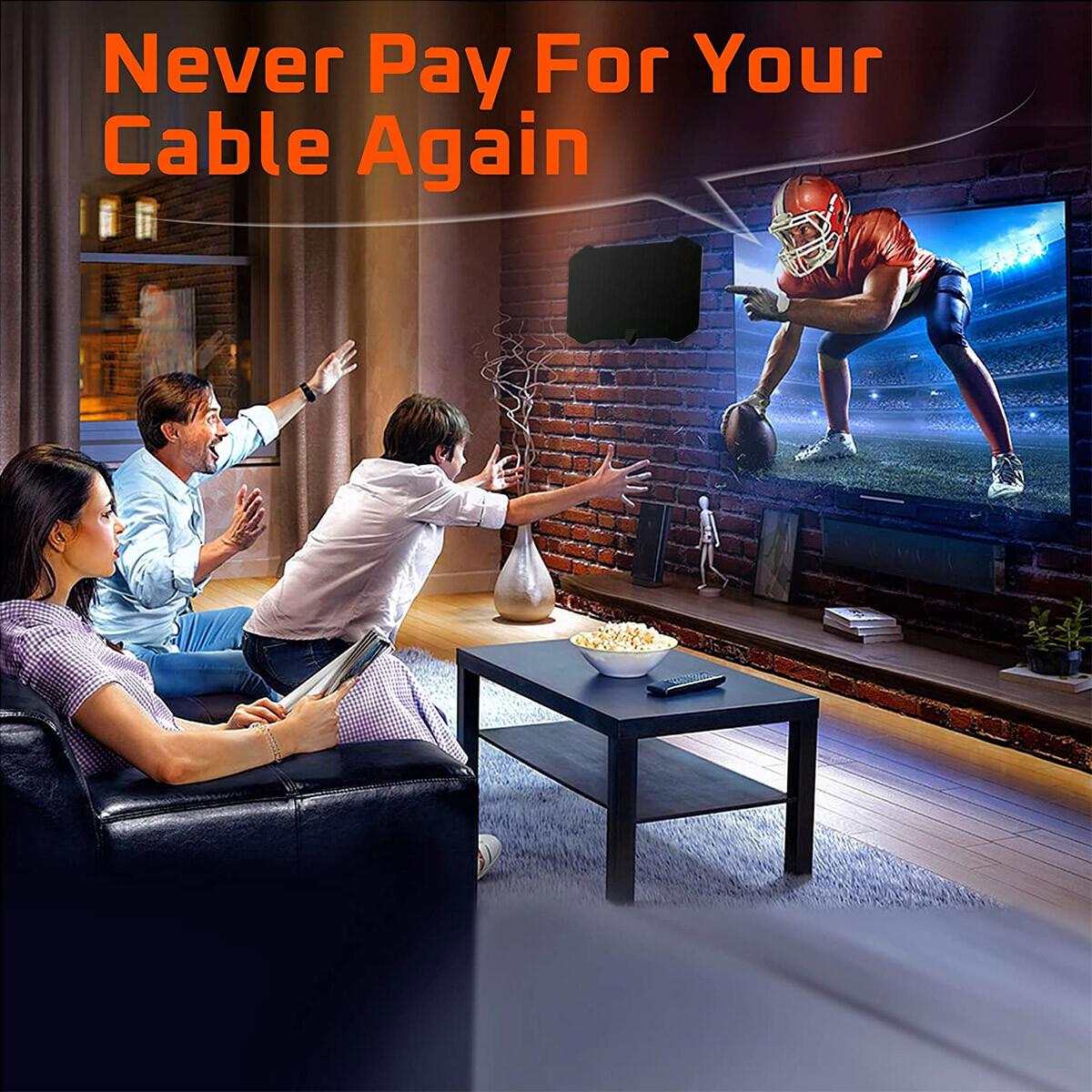 Best Digital Amplified HDTV Antenna
Upgraded to 300 miles
With a cordless HDTV antenna with a signal booster, you can receive beautiful HD channels without having to pay for cable or satellite subscriptions. Each antenna has an integrated smart IC chip that filters and delivers as clear an image as possible.
Features
Lifetime Free 4K HD Channels: With our TV antennas, you don't have to pay a lot of money for your TV. Our HD antennas can receive full HD channels such as ABC, CBS, NBC, PBC, and Fox.
Updated Signal Boosting Amplifier: Receives signals within 250+ miles with integrated smart IC chip and crystal clear filter technology. The new technology filters out cellular and FM signals for clearer images, lower noise, more free access to TV signals, and improved gain, range, and frequency performance. 
Up to 300 Miles Range: Up to 300 miles, with wide reception area and built-in 37dB amplified signal amplifier. It can be placed almost anywhere in your home. 
Easy Installation: Hang the indoor antenna on a window, wall, or home where reception is as high as possible. 
PAPER THIN Design: Cordless Magic HDTV Antenna offers a unique and compact design for reliable, multi-directional, and powerful UHF and VHF reception from 120 miles away. To do. The long coaxial cable provides the flexibility to lay the antenna flat on the back of the TV, on a table, in a window, or on a wall.
SPECIFICATIONS:
Working Frequency: VHF (170-240Mhz) / UHF (470-860Mhz)
VSWR: ≤ 1.5
Impedance: 75 Ω
Gain: 37dBi
Reception Range: 300 Mile
Size: 210*120*0.6mm
Color: Black
Cable: 1.5C-2 V (Length = 3 m / 10ft)
Connectors: Coaxial Male to Female Adapter
Polarization: Linear
Voltage: 5 V
Operation Temperature: -45 ~ 85 ℃
Storage Temperature: -45 ~ 85 ℃
Compatible with 4K, 1080p
find channels that works in your area:
dtv.gov/maps  is run by the Consumer Electronics Association and the National Association of Broadcasters.The interface hasn't changed in over a decade, but it's simple and the information is useful.
TVFool is more complex but gives a lot more detail including gorgeous plots of theoretical signal strength and where the broadcast towers are located.
Payment & Security
Your payment information is processed securely. We do not store credit card details nor have access to your credit card information.