Description:
 We have carefully created such a standard good flower pot stand for you. Solid pine, thickened wood, durable, waterproof and moisture-proof are not only our advantages, but also the four reasons why you choose us. Its material is selected from the time-honored pine, which is a natural resource of environmental protection and has been praised for its beautiful strength and durability. This pine plant flower rack brings natural decoration to your home, which is suitable for indoor and outdoor use. We use real materials to make touching products with generous prices. In leisure time, you can put flowers into your life while making a home for potted plants, and dress up your home!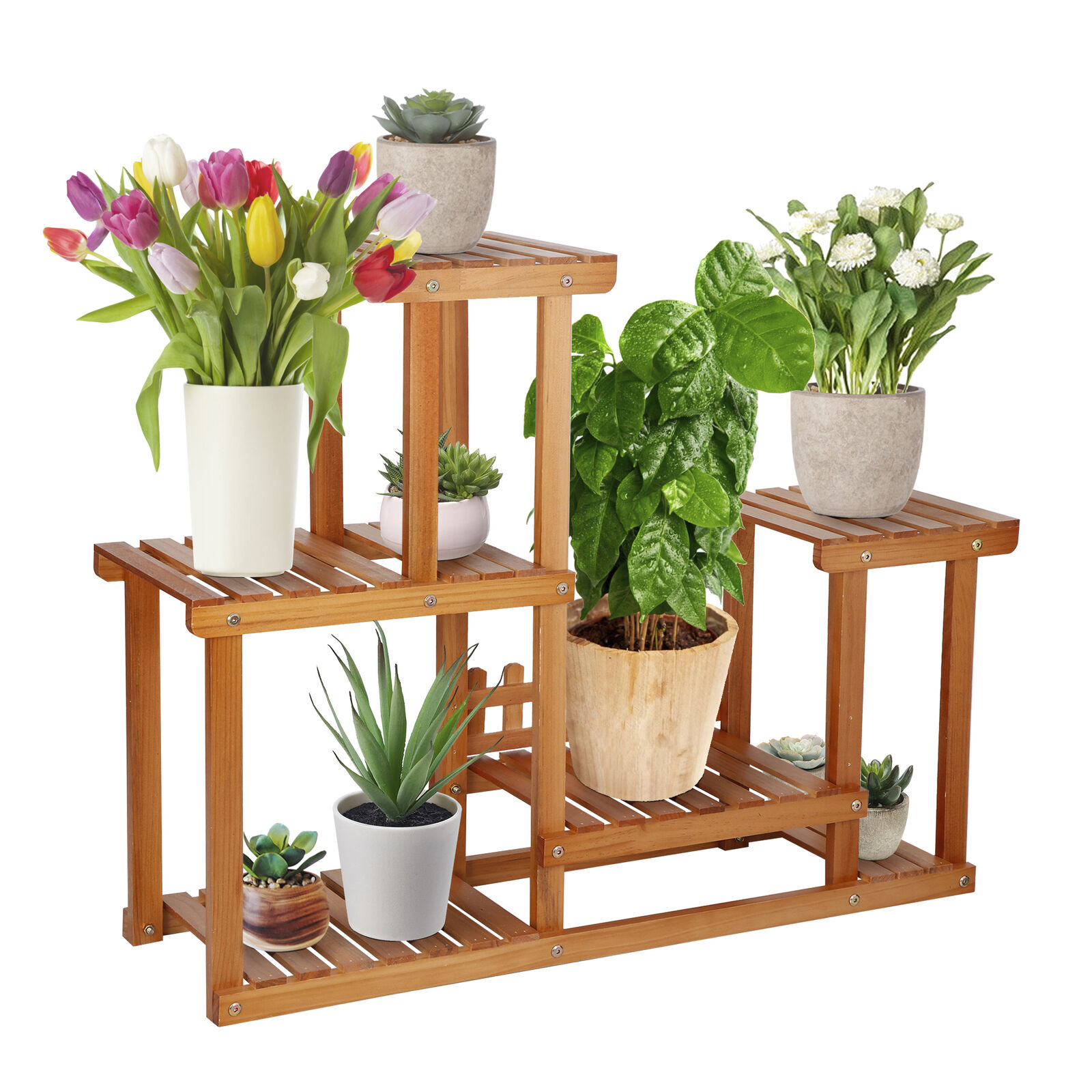 [Solid Pine Wood] - Selected high-quality solid pine with a long history and renewable quality, the tree rings are fine and the wood is dense, the material is thick, strong and durable, and the load-bearing force is strong, even when it is filled with buckets. It is also worth mentioning that the fresh and elegant pine scent of rosin can ease your mood, relieve stress and improve your sleep quality. At the same time, this can also dispel the smell of the home, so that your room will last fresh and exude the power of nature.
[300°C Carbonation] - Using 300°C high temperature carbonation, through a number of processes refining. The water content of the plant frame is reduced by 50%, and the ability of preventing deformation is increased by 50%. It has the functions of resisting pressure, and corrosion, preventing insects and waterproof, and the plate is thickened so that the flower stand is safe and durable.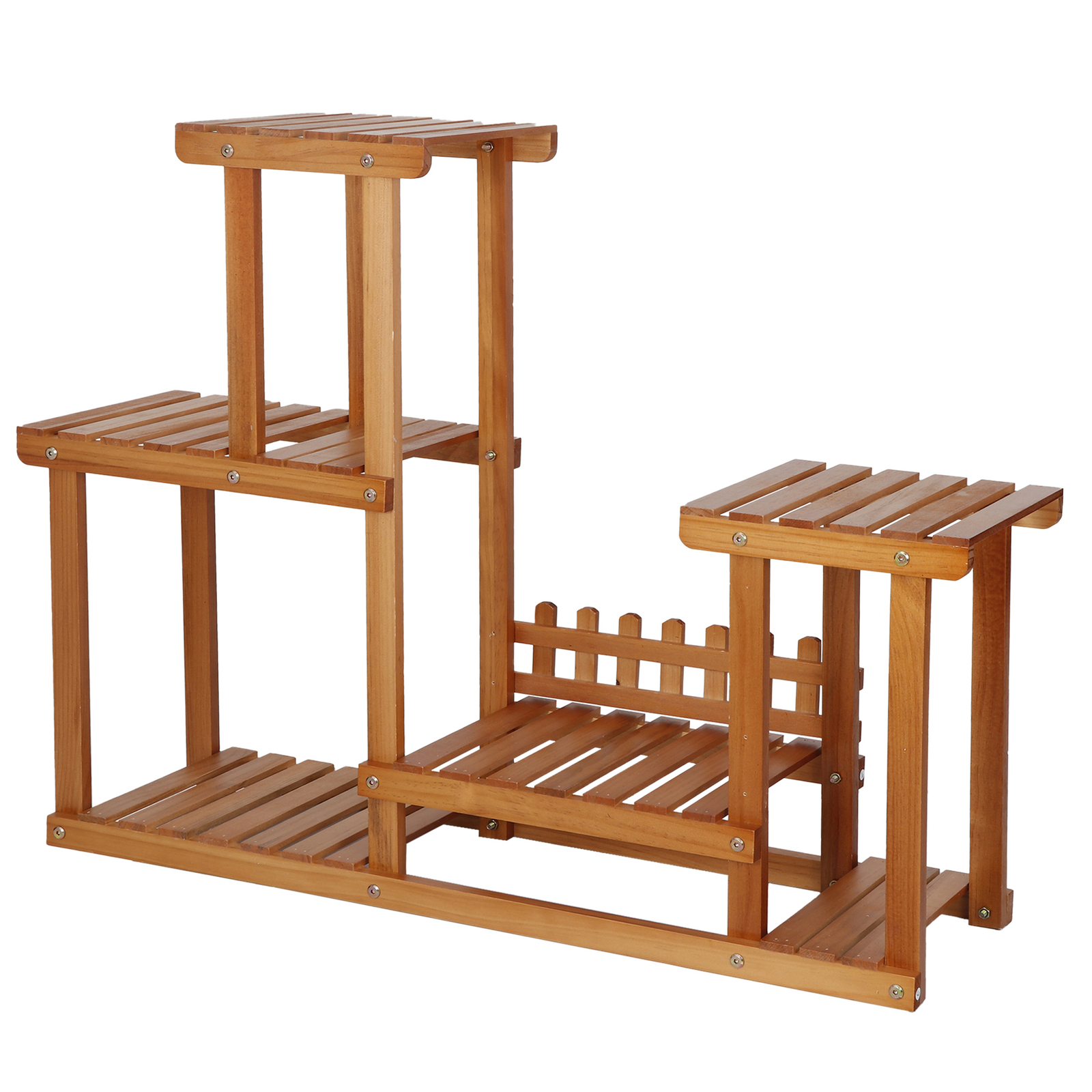 [Sturdy Load Bearing] - With 36.42 inches (about 92.51 cm) of contact area, eight anchor legs at the bottom, and a 9.84 inch (about 24.99 cm) wide frame, this plant support has plenty of load bearing capacity. Place heavy pots lower in the plant holder and light pots higher up. No more worries about unstable flower pots!
[Strip Laminate Design] - The clearance is uniform and has good light and water permeability.  
[Large Storage Space] - The 4 Tiers are equipped with 7 shelves and reasonably divided, this multi-directional storage design can help to accommodate more flower pots, no matter pot plant or small vases, so that each tier has its own unique scenery.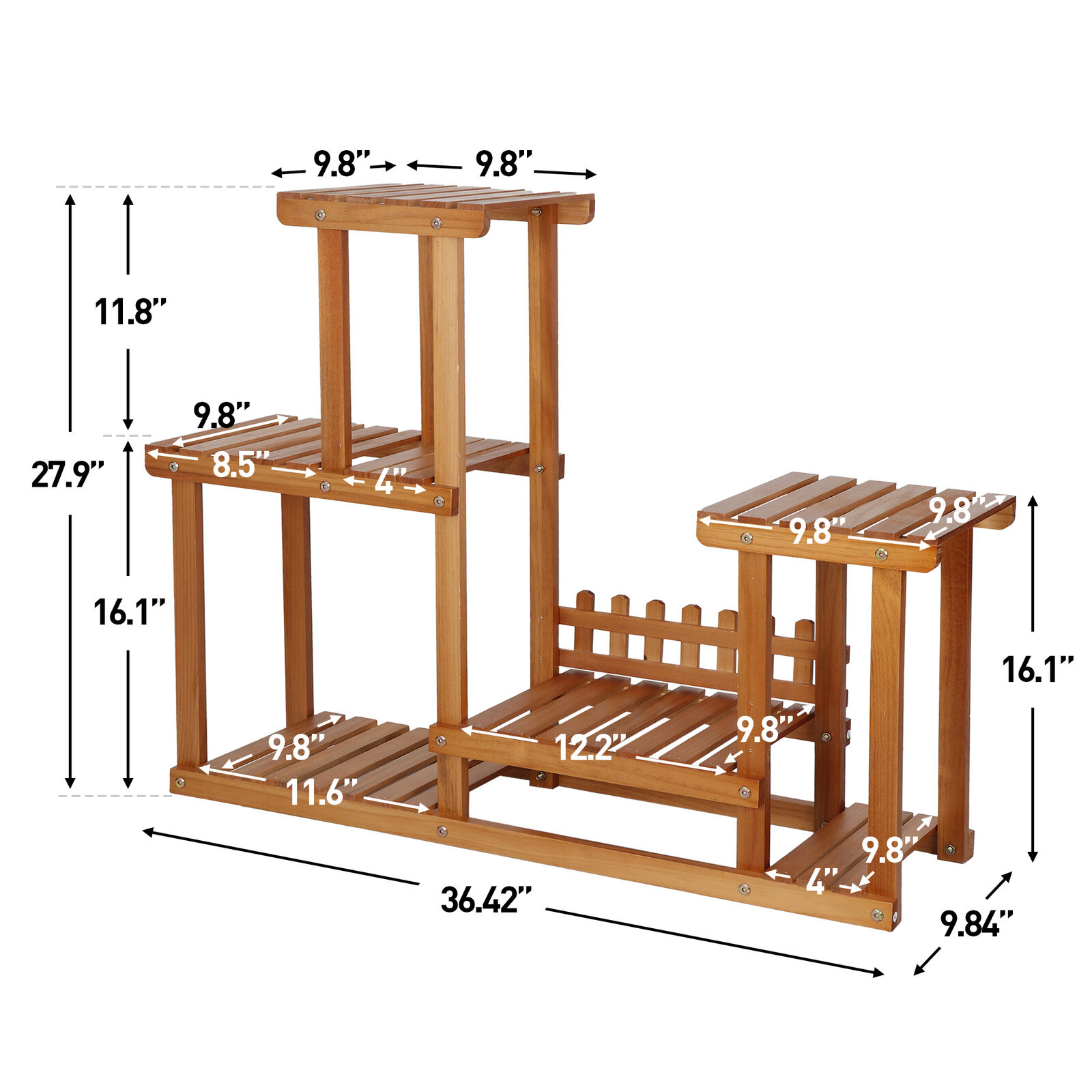 [Guardrail Design] - Add the balustrade design, beautiful and fashionable, effectively protect the flowerpots from falling and reduce the safety risks.
[Hardware Accessories] - Using high quality hardware accessories, each screw is carefully selected.
[Easy to Care and Assemble] - The healthy and smooth varnish surface is polished delicately and fruity, comfortable to the touch without burrs, and easy to wipe and clean. Everything you need to assemble this wooden plant stand is in this box, including tools and hardware accessories.
[Multiple Usage] - In addition to putting a variety of plants, this plant stand can also be used as a storage display rack, used for sundries, knickknacks, toys, books and some small household appliances, and used in the living room, bedroom, balcony, garden, door entrance or courtyard, showing what you want to share.
Specifications:
Material: Solid Pine Wood (At 18°C, the moisture content of wood is about 10%)
Color: Natural Brown, Carbonized Color, Natural Wood
Overall Size: 36.42 *9.84 *27.95 inch
Item Weight: 6.61lbs
Number of Tiers: 4-Tiers
Total Number of Shelves: 7 Shelves
Each Layer Loads: 33lbs
Payment & Security
Your payment information is processed securely. We do not store credit card details nor have access to your credit card information.