Description:
NO MORE EXPENSIVE CABLE
Motorized Amplified V/UHF HDTV 1080P 4K 360° Rotate For Rural Areas
 In the US, more than 90% of the US population is within reach to stream free HD television over the air. The average cable bill for a home in the US is $ 80,200 per month. This means you can save more than $ 9,602,400 a year just by skipping cable TV.
Cable companies can downgrade their service by 30% to save transmission costs. OTA does not have this problem.
Our Vaccap outdoor HDTV antenna is designed to receive digital TV FM/UHF/VHF signals while providing high-quality HDTV pictures. You can enjoy high-definition television without the high cost of cable or satellite.
Free Channels for Life!
Get free access to all the content available in your area, including the most popular over the air TV shows, news, sitcoms, kid`s programs, sports, and much more, all in breathtaking 4K Ultra HD for the best picture quality, most vivid colors and stunning sound.
FEATURES:
DUAL TV OUTPUT: This outdoor TV antenna supports 2 TVs at the same time; No special adapter or splitter is required.
FULL HDTV SUPPORT: Enjoy unlimited access to a 4K 1080P HDTV for high-quality pictures and sound. It gives you the experience of watching live TV! You don't have to pay any additional cable or satellite fees!
990 MILES REMOTE RECEPTION: Can receive a signal range up to 990 miles; You should receive all local broadcasts from networks like ABC, CBS, FOX, and more. The digital antenna constantly searches for new channels as they become available for transmission.
EASY TO INSTALL: Equipped with an easy-to-use instruction manual that makes antenna installation easy. Simply use a coaxial cable to connect the antenna to a TV, search for channels, and enjoy local HD programming in minutes.
WEATHER RESISTANCE: Made of durable plastic and anodized aluminum, durable, corrosion-resistant; The antenna uses durable, corrosion-resistant, and waterproof materials to withstand even the harshest weather conditions.
ALL IN ONE: Comes with a 360-degree built-in motor, built-in super low noise amplifier, and 33ft HD TV antenna coaxial cable.
SPECIFICATIONS:
1. Working Frequency: VHF 40~300MHz,UHF 470~890MHz
2. Noise Figure: ≤2.5dB
3. Typical Antenna Gain: VHF 28~32dB,UHF 28~36dB
4. Reception Range: 990 Miles
5. Channels: 1~69
6. Impedance: 75ohm
7. Max Output Level: 105dB uV
8. Main Voltage: AC 110V/60Hz
9. Operation Temperature: -10 Degree~50Degree
10. Coaxial Cable: 10M
11. Weight: 63.85oz / 1810g
Package Includes:
1 x Outdoor Antenna (Mounting Bar Not Included)
1 x Remote Control
1 x Power Box
1 x Instruction
1 x Coaxial Cable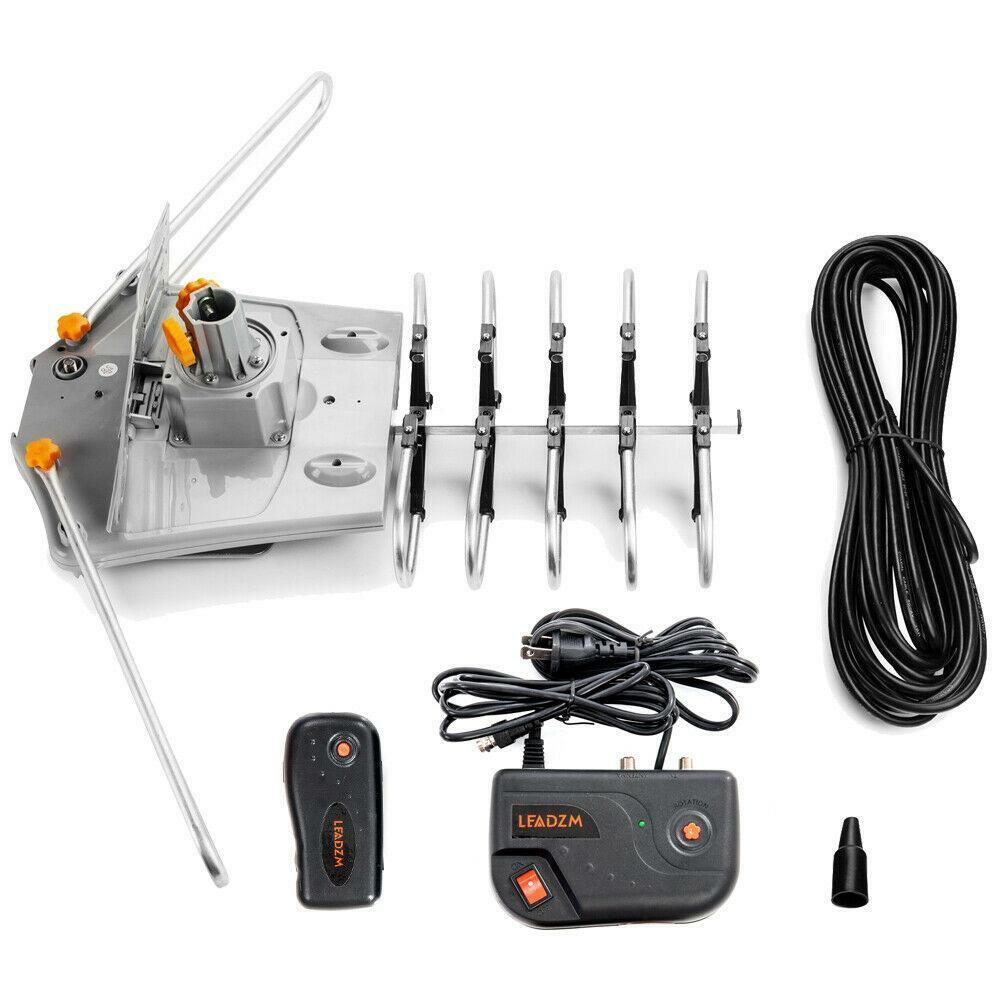 Made And SHIPS FROM USA
3-7 days delivery
*Note: If you need mounting bar you add it to cart by choosing it in options
Payment & Security
Your payment information is processed securely. We do not store credit card details nor have access to your credit card information.