Description:
PREMIUM FIREPLACE CHIMNEY RAIN COVER CROWN CAP
Ensure that your chimney gets the protection that it needs by installing a chimney cap onto it. Our chimney cover was made to prevent water and other debris from entering your home and damaging your chimney.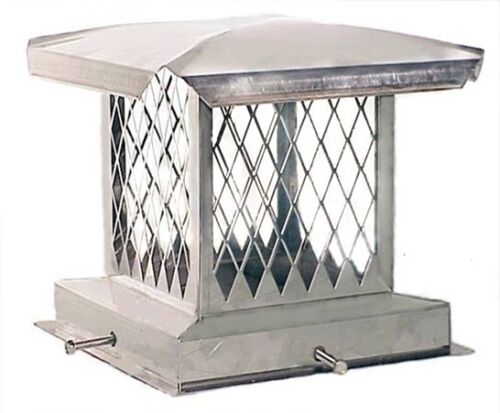 Made of 304 Stainless Steel, the chimney spark arrestor is capable of extinguishing embers before they reach your roof. This way, you'll be able to prevent your roof from catching fire and endangering the people within.
Fitted with a mesh fence, the chimney flue cap will keep little critters and animals from entering the chimney. It will ensure that you won't come home to wild animals roaming around your home.
the chimney rain cap comes in multiple different sizes, giving you the option to choose the perfect one for your home. Keep your fireplace moisture-free by attaching our premium galvanized steel chimney cap onto your chimney.
24 gauge hood with 8" height diamond mesh screening

Superior animal proof 3/4" mesh prevents creosote build up

Machine threaded holes preventing screws from from stripping out

Base will not bow out when tightening the screws to the flue tile
To find the right size cap for your chimney see the chart below:
8 x 8 fits flue sizes from 6.5" x 6.5" to 9" x 9"
8 x 13 fits flue sizes from 6.5" x 11" to 9" x 13.5"
8 x 17 fits flue sizes from 6.5" x 16" to 9" x 19"
 13 x 13 fits flue sizes from 11" x 11" to 14" x 14"
13 x 17 fits flue sizes from 11" x 16" to 14" x 18.5"
17 x 17 fits flue sizes from 16" x 16" to 18.5" x 18.5"
Payment & Security
Your payment information is processed securely. We do not store credit card details nor have access to your credit card information.