Description:
Effortlessly Remove Dents with Our Professional Dent Repair Kit
Say goodbye to expensive car repairs and frustrating dents with the dent puller, the ultimate solution for dent removal. This professional-grade kit allows you to effortlessly remove dents from your car, refrigerator, washing machine, and other surfaces without damaging the original paint.
Wide Range of Applications
The dent puller is perfect for removing car dents, hail damage, and dings. It is also suitable for a range of surfaces such as automobiles, refrigerators, and washing machines. However, please note that this tool is not recommended for corners or creases.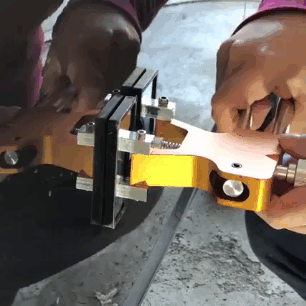 Upgraded Design for Maximum Efficiency
Our new and improved dent puller comes with upgraded features that make it easier to use and more effective than ever before. With adjustable height and width up to 3.8cm, our kit includes glue tabs in various thicknesses and diameters for optimal pulling efficiency. The unique arched bridge design also ensures no additional damage is caused during the process.
Beginner-Friendly and Easy to Use
The dent puller is designed to be easy to use, even for beginners. Most dents can be removed in just 30 minutes, making it a convenient and time-saving solution for anyone looking to remove dents from their car or other surfaces.
Protects Original Paint
Our golden dent puller is made of tempered high-carbon stainless steel and standard stainless steel, ensuring durability and longevity. The bottom of the tooth lifter is made of soft silicone that will not harm oil painting and can be easily removed.
Dent puller only and Dent puller Kit Packages Available
Our dent puller comes in two packages. The first package includes 1 dent puller tool and 18 car dent repair tabs. The Dent puller Kit package includes 1 dent puller tool, 18 car dent repair tabs, 1 glue gun, 5 glue sticks, and 1 plastic glue scraper.
Frequently Asked Questions
We've answered some of the most frequently asked questions about our dent puller below:
 Will it damage the car paint? A: No. The puller glue tabs are made of plastic, not metal, and will prevent car paint damage. However, it's always best to be careful and take time during the process to avoid accidental scratches.
Can you reuse the small plastic pull pieces, or are they only good for one dent? A: Yes, they are reusable. Just clean off the glue before reuse.
Will this product get out small (pea size) door dings out of my car? A: Yes, our dent puller kit can get out small door dings. You may need to try a few times and use a hot melt glue gun and glue sticks for optimal results.
our dent puller kit works effectively on small dents like hail-damaged dents.
Payment & Security
Your payment information is processed securely. We do not store credit card details nor have access to your credit card information.