Description:
 Marine Multi-Purpose Dock Hook: The Ultimate Boating Accessory
If you are looking for a reliable and versatile boating accessory, look no further than the Marine Multi-Purpose Dock Hook. With its unique design, this dock hook can easily grab your boat's rope and pull it through any place, allowing you to tie up your boat from a long distance.
A Must-Have Multi-Purpose Implement: Not only can you use it to moor your boat, but you can also use it for other tasks, such as hanging Christmas lights on your front or back yard olive tree. This multipurpose implement is a must-have for any boating enthusiast.
Premium Quality: Made of stainless steel, this dock hook is rust-resistant and designed to meet all your needs for the boating season. The premium quality of this dock hook ensures that it will last for years to come.
Lightweight and Easy to Use: Weighing only 15 oz, this dock hook is easy to handle and operate. Its telescopic design allows for easy carrying and storage, and it can fit into a small-ish storage locker space on the floor deck of your boat.
The Ultimate Extension Pole: With a length of 42.5x22.5x3.5cm, the Marine Multi-Purpose Dock Hook is the ultimate extension pole on the market today. Its non-slip soft rubber hand grips provide comfort and a reliable grip in wet conditions. The pole is made of stainless steel for durability, ensuring that it can withstand the harsh marine environment.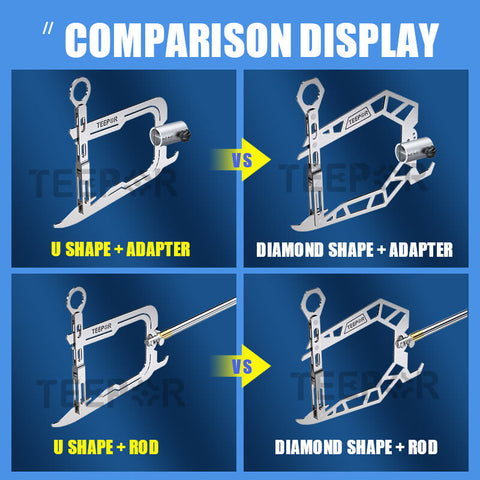 Package Contents: The package includes one multi-purpose dock hook with either a rod or adapter, depending on your preference. The adapter can use rods within 30mm in diameter.
Invest in the Marine Multi-Purpose Dock Hook today and enjoy a hassle-free boating experience.
Payment & Security
Your payment information is processed securely. We do not store credit card details nor have access to your credit card information.