Description:
Large capacity storage for all the cosmetics you want to take on a trip, and a delicate trip.
 This cosmetic bag allows you to neatly organize your disorganized beauty tools. It is made of high-quality, long-lasting materials. Its interior is divided into various compartments, each with its own function, and can store your items according to their size. It is easily accessible, sorted, and stored, and it is available at a glance. Furthermore, your products will never fall out, giving you the freedom to use them whenever you want. This beauty bag is ideal for use at home or on the go.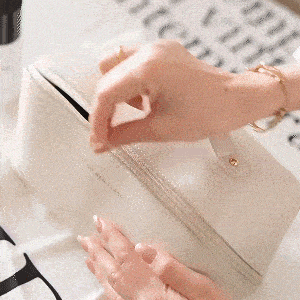 Large Capacity & Multi-Partition: A large-capacity design for storing your daily cosmetics. The interior is divided into different compartments, each with its own function, and can store your items in accordance with their size.
Premium Quality & Wide Opening: A steel wire is inserted inside the opening of the makeup bag, making it more three-dimensional and easier to pick up. It is made of soft creamy leather that also protects your belongings. 
Waterproof & Easy to Clean: This makeup bag is waterproof, you'll never have to worry about your bag or cosmetics becoming wet. The stains will be quickly washed away, and it is also easy to clean. It's a simple but creative cosmetic bag.
Convenient to Carry: With its top handle, this makeup bag is very easy to carry. It is a lightweight and functional zipper pouch. It's also a great birthday gift for your mother, wife, sister, girlfriend, or daughter.
 Widely Applicable: This makeup bag can hold your jewelry, electronic accessories, camera, essential oil, toiletries, shaving kit, glasses, valuables, and so on. It is designed not only to look great but also to provide the most storage space possible.
Specifications:
Material:

Pu Leather

Size:

23.5x11x10.5cm
Payment & Security
Your payment information is processed securely. We do not store credit card details nor have access to your credit card information.