Description:
IPL Laser Hair Removal Epilator Permanent Body Electric Waxing Machine

Eliminate unwanted hair and forget about irritated skin after shaving! Just three quick sessions over three weeks will bring long-lasting visible results. Unique high frequency flashing light technology allows for the pain-free removal of your hair. Intense pulse light (IPL) gently warms the hair follicle disabling it and preventing hair regrowth on your body and face. With flashing capacity of 600,000 this is the most advanced IPL hair removal device for home use and designed to last for over 6+ years.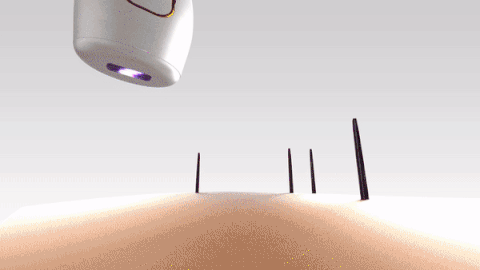 Two flash modes: Single flash and continuous flash to accommodate different body parts.   
Five power levels: Choose convenient setting suitable for your skin type.  
Gain without pain: IPL Laser Hair Removal Handset offers gentle experience providing with pain-free treatment. Can reach every body part, including your face, Brazilian and arms.
Advanced IPL technology: This technology was originally used in professional beauty salons and now brought to the comfort of your own home.  
Time saving: It only takes 5 minutes for a small patch and as few as 30 minutes for full body treatment. 
No limits: Suitable for virtually all skin types, but very dark black skin. Can be used on all body parts by men and women.
Home-based hair removal system: No need for expensive clinical laser treatments. This IPL Laser Hair Removal Handset is a compact device that delivers sharp light bursts to limit the growth of hair resulting in hair-free, lustrous skin.
Continuous saving: It costs less than one salon laser treatment of just one body part and will last you for up to 6+ years giving the same results!
How does the IPL hair remover works?
 HOW TO USE:
It can be used on any part of the body including the face, legs, arms and the Brazilian.

Locate the IPL laser Hair Removal Handset on the target area and press the button to generate a pulse of light that weakens the hair follicle roots. While using near eyes, wear sunglasses.

Advised usage is once a week for the first 12 weeks before you start seeing visible results.

After this, use it once a month for 3 months or until satisfied.

To maintain hairless, smooth skin, use this once every 2 to 3 months or as needed.
Payment & Security
Your payment information is processed securely. We do not store credit card details nor have access to your credit card information.