Description:


Y

ou regret getting a tattoo?
 Not all tattoos are a piece of art, some are just a mistake? We know that that's why we've invented this Removal Laser Pen device that directly breaks up dark pigment with powerful and rapid energy to achieve to goal of improving skin, without harming or damaging the skin tissues!
Meet this Laser Removal Pen! Utilizing Picosecond Laser Technology, it powerfully blasts the pigments into tiny particles by firing rapid laser emissions without damaging the skin in the process. These pigments will then be absorbed by lymphatic metabolism and gradually decreases. The laser emitted by this Picosecond Laser Pen has selective photothermolysis, which means the laser will only damage the melanin while not damage other tissues around. It can blast all sorts of unwanted skin marks such as Acne, Moles, Warts, Tattoos, Dark Spots, Freckles & Pigments.
PROFESSIONAL SOLUTION FOR TATTOO REMOVAL AT HOME
Unlike traditional laser removal technology - the Pico Laser won't burn you, allowing you to slowly fade your blemishes as part of your normal home routines. 
The Picosecond Laser Pen utilizes clinically validated technology laser for tattoo removal, laser freckle removal, and melanin removal. 
Note:
HOW DOES IT WORK?
Pico-second technology uses powerful impulses of light at a wavelength designed to ONLY attack specific pigments - leaving your skin pain free during treatment.
This means skin won't be burned or damaged, only a gentle tingling sensation will be felt during operation.
HOW LONG WILL IT TAKE?
To begin to see results NEATCEL recommends 2-3 exposures per week, repeated for 6 weeks. This gives all pigments adequate time to begin denaturing and cause visible fading. This process is known as Photo-ablation.
Below: A 2-month commitment to the Picosecond pen has almost completely removed David's Neck Tattoo. With the traditional Q-Switch Technology, these results would have cost thousands, with extensive healing time and high risk of infection.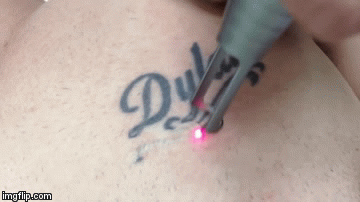 WHAT CAN IT REMOVE?
With multiple routine sessions Pico-Laser technology allows you to easily remove:
Tattoos
Freckles/Dark Spots/Pigment Removal
Melasma (sunspots)
Light Scarring/Stretch Marks
Avoid long visits to the doctor and painful procedures with a long healing time. This device is safe enough and effective in the privacy of your own home. 
VERY EFFECTIVE
Topical creams and home remedies are simply not effective for tattoo removal. Our advanced Astanza Duality laser will shatter the ink particles in the dermis, allowing the body's immune system to flush the tattoo ink away.
Sleek, Compact durable design meaning you can take it anywhere and pass it on to friends for years to come!
FEATURES
Professional picosecond laser pen, suitable for home, beauty salon and training center use.
2000000 Rounds Laser Emission Times
The pulse width of the laser is short. Almost no photon thermal effect, no damage to the intact tissue
Blue Light Type with 9 files to Control,4 powder files
LCD display, More convenient to use. Shows power and files number
Blue Light Type, use for Whitening, Remove Freckles, Acne marks, Scars, Mole, Nevus, and so on.
Powerful and rapid energy breaks up dark pigment directly
No damage to skin tissue
F

ewer treatment times, better treatment effects

Wide customer application range, more durable and safe
Faster, longer effect, and without any damage
Payment & Security
Your payment information is processed securely. We do not store credit card details nor have access to your credit card information.