Description:
2023 RGB Led Solar Powered Bird Bath Water Fountain Pump
Give your backyard a touch of nature with the Solar Powered Bird Bath Water Fountain Pump.  It attracts birds and give them a great place to drink and wash. It makes a great feature in any pool, backyard, fish tank, pond, or existing birdbath. 
Upon delivery, just let it Get some sun and set it in water, and it will run automatically within 3 seconds. No tool or wire is required.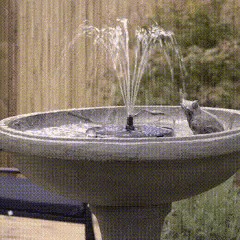 High-efficiency & Eco-friendly This solar bird bath fountain with 16cm, 3W high-efficiency solar panels, larger solar panels can effectively absorb sunlight and efficient operation. The built-in 1200 mAh battery ensures proper operation even on cloudy days or at night. Friendly to the environment, the bird bath fountain also attracts birds and provides fun for your garden.
• 6 LED Solar Water Fountain This is a solar fountain pump with light that can store electricity in direct sunlight during the day. The stored electricity can make the solar bird bath fountain automatically spray water at night and light up for more than 4 hours. 6 LED lights will automatically light up at night and illuminate the whole fountain, a beautiful light show is being held.
• Multiple Water Styles Our solar pond fountain has 8 nozzles to meet your different needs for water spray height and shape. The solar fountain operates automatically in direct sunlight for 3 seconds and sprays water at a height of 30-60cm on sunny days.
• High Quality Solar Water Pump We have equipped our floating solar bird bath fountain with high quality, durable PET laminated solar panels that are guaranteed not to break or warp over time. This bird bath fountains for outdoors has a built-in filtration system to keep out dirt, dust, and leaves, so you only need to clean the pump and pool regularly for a long and convenient life.
•Anti-collision Pipes Avoid Water Loss Our solar powered water fountain is fixed in the center of the bird bath by 4 innovative anchors to prevent water from spraying out of the bird bath, eliminating the need to waste time adding water frequently. Ideal for bird baths, small ponds, swimming pools, fish tanks, garden decoration and oxygen water circulation.
Payment & Security
Your payment information is processed securely. We do not store credit card details nor have access to your credit card information.