Description
Solar Powered Bird Bath Water Fountain Pump
Give your backyard a touch of nature with the Solar Powered Bird Bath Water Fountain Pump.  It attracts birds and give them a great place to drink and wash. It makes a great feature in any pool, backyard, fish tank, pond, or existing birdbath. 
Upon delivery, just let it Get some sun and set it in water, and it will run automatically within 3 seconds. No tool or wire is required.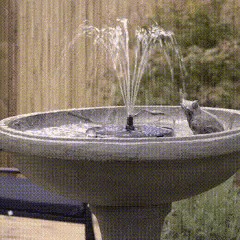 Payment & Security
Your payment information is processed securely. We do not store credit card details nor have access to your credit card information.