Description:
Sticky darts is a versatile, fun & competitive game for all ages. Some say it is the love child of Bocce Ball, Corn Hole, Darts, and H.O.R.S.E.
This is the next legendary dart game you've never seen before. Forget everything you know about traditional darts. Our compact sets can be played wherever you go, indoors or outdoors.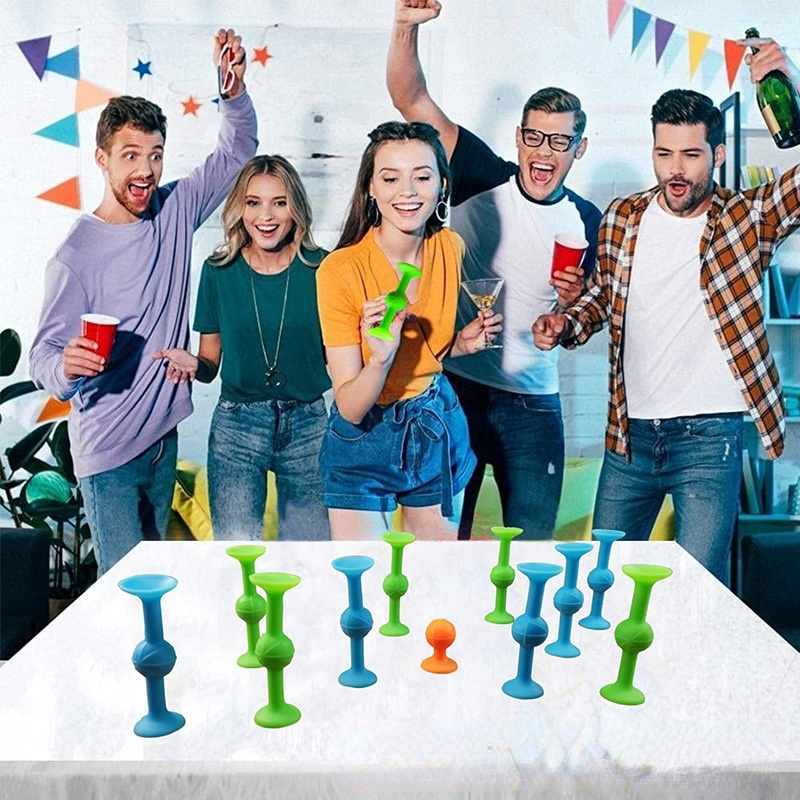 Sticky darts stick best to smooth surfaces like a countertop, refrigerator, window, car windshield, glass door, surfboard, etc. You want the avoid bumpy, textured, or porous surfaces like wood. They are suction cups so they need to be used on surfaces that you'd expect a suction cup to function on. 
Our Pop darts do not "wear out".  They are super durable and if they get dirty just simply rinse them off and keep on poppin'!  They are dishwasher safe as we
The rules of the game are simple
Determine the target location. Place the orange "target" toy on any surface. (For example: desktop/window glass/car hood/refrigerator/mobile sweeping robot (difficulty))

Everyone gets the same number of "" toys. At the same distance, throw at the "target" toy. closest =3 points and each that stick =1 point.

The material is made of high-grade silicone rubber, which is super soft and does not leave any traces. So you can use it on any surface.

A good helper to relieve stress. When you are in a bad mood, you can treat it as your bad mood and hit it heavily on any surface without leaving any traces. When you pull off the surface of the object, it will make a pleasant pop sound.

It can be reused after washing. When its surface is covered with dust, it will affect their adhesion, but don't worry, you only need to wash them with water and they will return to their original state.

Specification:
Material: Silica gel.

Color: Four greens, four blues, and 1 orange.
Payment & Security
Your payment information is processed securely. We do not store credit card details nor have access to your credit card information.