Description:
KEEP RACCOONS & Pests AWAY
The Vaccap Yard Gard and Solar Yard Gard are electronic ultrasonic repellents that use sounds out of the range of human hearing to irritate pest animals, repelling them from your property. The raccoons are not harmed by the ultrasonic frequencies emitted, but are rather encouraged to find more peaceful, untreated areas.
ENVIRONMENTAL FRIENDLY AND EASY TO USE:
Naturally drives Raccoon and other animals out without killing them. Made of anti-UV and waterproof material, suitable for all weather conditions. SOLAR energy technology, charge itself under sun, wireless and rechargeable. Don't worry about getting new batteries anymore! Repeller features FLASHING light to scare the animals.
EASY AND CONVENIENT TO USE
Not sure how it works? Simply inserts the Ultrasonic Raccoon Repellent into the ground soil where there is plenty of sunlight and switch it on. Portable and small size design, it can be installed in your home, garden, courtyard, or somewhere else. Once Raccoons enter the protection range, the sensor starts to work, then it will emit ultrasonic waves and the red light will be turned on so that it repels the Raccoon.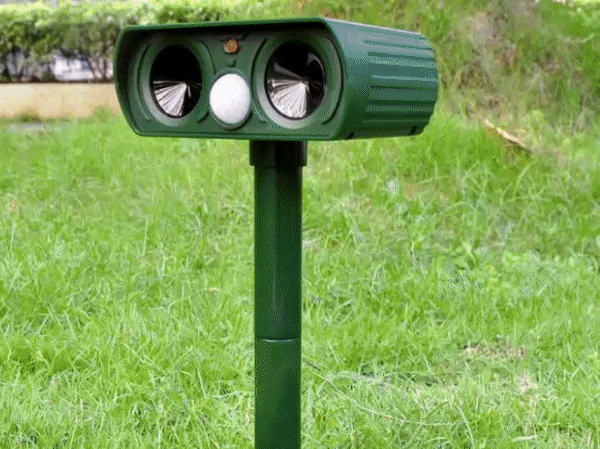 ECO-FRIENDLY MATERIAL, SOLAR CHARGE
Equipped with solar panel as the power supply, cost-effective and eco-friendly. The unsealed design allows it to work under any weather, water-resistant, windproof, sun-protective, and rustless. Solar panels can effectively charge the product to maintain a long time all day head standby. On the outdoor do not have to worry about the product will need a power outlet.
HARM
 

FREE!

Protect your home from unwanted Raccoon without the use of dangerous and messy chemicals, pesticides, sprays, or traps that can harm you, and your family. No Dead animals!
Emits sound waves to repent pests and animals
Eco-friendly and solar charging
Waterproof, windproof, and sun-protective
Guard for your garden or yard
Easy to install and use
Payment & Security
Your payment information is processed securely. We do not store credit card details nor have access to your credit card information.